Millenium is an optimal portable traffic sign solution for worksite traffic control.
The Millennium worksite traffic light has been entirely designed to facilitate setting up your worksites while making them safer for workers and road users.
Innovation  by LACROIX City, the Smart Millenium version is an adaptation of the Millenium traffic light with a vehicle detection radar. By tuning their cycles to real traffic, Smart Millenium traffic lights offer motorists a reduced waiting time and make traffic flow more smoothly.
Benefits
Easy to use

Lights are completely identical (no master or slave light) and configurable (alternating intersection with 3 or 4 branches)
System with up to 4 lights synchronise automatically
Long-range universal remote control
Ergonomic
Two transportation modes: wheelbarrow/dolly mode
Secure system for unfolding/folding the light-head
Retractable carrying arms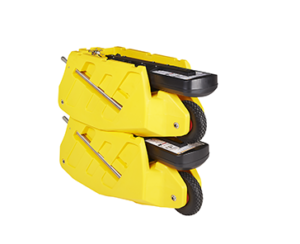 Optimised storage
Foldable light-head
Stacking lights
Robust
Steel telescopic lifting system, stainless steel carrying arms
High-density rotationally moulded polyethylene frame
Highly shock-resistant ABS light-head
Puncture-proof front and rear wheels
Features
Alternating operating mode, intersection at 3 or 4 branches
Lenses:
Ø 200mm to 230mm between-centres distance
2 LEDs lens
1 central lens with countdown timer: double crown + LED digits-from 9 to 1
Dimensions:
Folded: H 475mm × L 1195mm × W 537mm
Unfolded: H 2754mm × L 1195mm × W 537mm
Battery compartment (inner dimensions) : H 265 × L 271 × W 291mm
Weight  without the battery : 41kg